Fans relive some fond memories with NKOTBSB reunion concert
Posted in Concert Review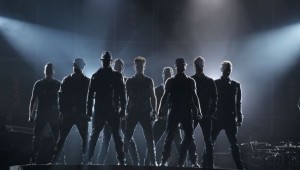 New Kids on the Block and Backstreet Boys take the stage at Historic Boardwalk Hall in Atlantic City NJ on Friday.
Posted:
Friday, July 29, 2011 11:28 pm
ATLANTIC CITY - Oh, sweet 1990s nostalgia.
It was once the stuff of boy band dreams to think the New Kids on the Block, the biggest boy band of the late 1980s and early 1990s, could not only reunite and tour again, but join forces with late 1990s boy band powerhouse the Backstreet Boys.
But dreams can come true. And on Friday, the women - and a handful of men - flocked to Atlantic City's Boardwalk Hall to see the combination, known affectionately on this nationwide tour as "NKOTBSB."
As the curtain lifted to reveal the nine members of both bands, singing their hits "The One" and "Summertime," the arena erupted with more screams than a Justin Bieber concert.
Sure, the guys are older, and yeah, there were some backing tracks throughout to support some of the slightly weaker vocals. But the biggest difference on this tour is the attitude. These guys are no longer puppets of a pop music factory, churning out manufactured hits and merchandise (anyone remember New Kids trading cards and Backstreet Boys dolls?).
Now on their own, the older, wiser New Kids and Backstreet Boys are still singing the saccharin-sweet pop that made them famous - but this time, they know exactly what they are selling. There was plenty of chest baring, crotch thrusting and general merriment among the rabid, 30-something females who filled the hall to see their childhood idols.
The female fans, too, had grown up. And they were not shy.
"Jordan take it off!" read one sign.
"Donnie get naked!" read another.
Still another: "Our husbands let us be single tonight!"
Each New Kid and Backstreet Boy fell into their corresponding boy band roles. "Bad boy" Donnie Wahlberg was clad in a Public Enemy T-shirt; at another point, tearing off a tight-fitting black T-shirt, rubbing it against his sweaty chest, and tossing it to a screaming fan.
Backstreet Boy Nick Carter remained the playboy, running into the crowd to flirtatiously search for a woman to sing to on stage.
New Kid Joey McIntyre, the innocent heartthrob, playfully mugged for the crowd as he sang his most famous hit "Please Don't Go Girl," albeit a few octaves lower than the version he made famous as a pre-pubescent teenager. Jordan showed off his still-impressive falsetto range with his hit "Didn't I Blow Your Mind."
Jonathan Knight, the shy New Kid, still managed to somehow blend into the background on a stage in front of thousands.
The biggest advantage of both groups touring together was a non-stop show for the fans. While one band was on, the other was off, meaning no breaks or intermission. They kept the momentum going by grouping big hits together - the New Kids amped the crowd singing "The Right Stuff," (complete with their trademark shuffle made famous in their music video), followed by the Backstreet Boys singing one of their bigger hits "Larger Than Life."
Both groups took the time to really interact with fans, recognizing the many signs, pointing and smiling, shaking hands and even pulling women on stage to sing. The crowd banter was limited and came off a bit scripted, but the interaction was genuine. It was the mark of stars who have been around long enough to appreciate how they got there.
As both groups finished with their biggest hits - "Backstreet's Back" and the New Kids' "Hangin' Tough," the fans, too, showed their appreciation, holding signs like "Thanks 4 all the memories!"
Opening for the boy bands was a perfect 2011 contemporary - breakout "Glee" star Matthew Morrison, who plays teacher Will Schuester on the hit Fox TV series.
With Justin Timberlake-style good looks and a level of charm that could give Michael Buble a run for his money, Morrison entertained the crowd with slick dance moves and a combination of pop medleys and original songs, including his first single "Summer Rain," played on a ukulele.
His set received a standing ovation from the crowd.
With star quality like that, Morrison is all set to start a boy band revolution anew.
Source:
http://www.pressofatlanticcity.com/life/fans-relive-some-fond-memories-with-nkotbsb-reunion-concert/article_96374a62-ba5c-11e0-9230-001cc4c03286.html